I have a soft spot in my heart for this Dr. Seuss classic. I used to read it to my students when I taught elementary school. Have a look at what is happening to the book.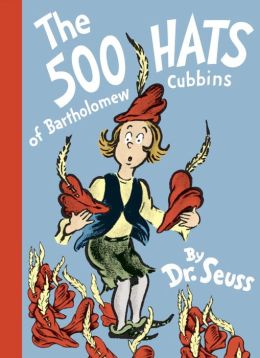 According to Publishers Weekly, he was a man of many hats, both literally and figuratively. As Dr. Seuss, the prolific children's author, he wrote 46 books for children, and as Theodor Seuss Geisel, he was an ad man and political cartoonist who collected hats, hats, and more hats – much like the title character in his 1938 classic, The 500 Hats of Bartholomew Cubbins.
In honor of the 75th anniversary of that title, Random House Children's Books, which has sold 600 million Seuss books in 30 languages and 95 countries, is launching Hats Off to Dr. Seuss!, a yearlong celebration of the good doctor with a focus on some of the issues dear to his heart – children's literacy and health, and the joy that creativity could bring them. The commemoration includes several programs in honor of Geisel, who died in 1991 at age 87.
The author had a private collection of hats, said to number in the hundreds. Geisel began collecting hats in his 20s and was known to wear them – and insist his editors wear them – when in need of inspiration for a word or a character. The star of the show is undoubtedly the tall red-and-white-striped topper sported by the wily feline star of The Cat in the Hat (1957).
In a partnership with Dr. Seuss Enterprises and the Jeff Gordon Children's Foundation, an organization dedicated to finding a cure for pediatric cancer, Random House will donate Seuss books and Seuss-themed hats to children's oncology hospitals in the JGCF network.
For its 75th anniversary, The 500 Hats of Bartholomew Cubbins has been converted to full color – the first Seuss title to get such a treatment.
Originally published in black and white with flashes of red for the hats that magically appear on the title character's head each time he removes one, the new edition, published in January, now features greens, blues, and yellows.
It should be a fun read in its new colored state. A renaissance of sorts for a classic.