His fingernails and teeth are too long. He is the topic of folk lore and village legends. He loves the night and the creatures who wander. He is a Nosferatu, and his name is Vladimir. Will this book called Vlad The Vegetable Juice Drinking Forklift Driving Nosferatu be the ultimate in dark fantasy too?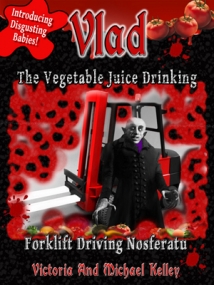 The storyline, written by Victoria and Michael Kelley, is still based in folk lore and a particular village near the Carpathian Mountains in Romania. It is true to the history of the Dracula legend in many ways. The original look of a Nosferatu is all there. The older man with the long fingernails, two front pointed teeth and a bald head make this character Vlad a real Nosferatu in appearance.
The character Vlad cannot remember where he came from or if he was ever a child himself. However he knows that drinking vegetable juice is all the nourishment he needs. Children are not Vlad's victims in this story but rather they are loved and cared for. The children are part of the secret in keeping Vlad's heart from darkness. He is a real anti-hero and the children love this peculiar old man with the pale skin.
Unlike other vampires in a traditional storyline which involves consuming human blood, the Vlad in this story is a genius at creating mechanical inventions. He doesn't live in a dark castle, rather he is the owner of a toy shop. Vlad's passion for creating new inventions and toys, make both children and adults happy.
There are also totally unique and unusual characters in the book, who are introduced into children's lives through Vlad. They are called Disgusting Babies and there is a mystery surrounding these little insect type creatures too. They travel with Vlad where ever he goes and only his children are privileged to see or even know about them.
According to the authors there will be a series of Vlad books coming out. They have a host of ideas for the disgusting babies and Vlad's adventures. These ideas and concepts involve writing about real towns across America and other parts of the world to help promote all kinds of people. You may want to take a look at the Chronicles Of Vladimir website to learn more.