As Abraham Lincoln's birthday was on February 12, let's look at a new book celebrating his most famous speech, The Gettysburg Address.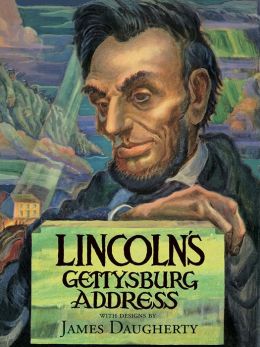 President Lincoln delivered the Gettysburg Address 150 years ago, in late 1863; the text of that speech formed the basis for this picture book from

James Daugherty

, a Newbery-winning illustrator, which was first published in 1947.
The book opens with Daugherty's original foreword, as well as the address in its entirety, before moving on to 15 paintings that depict
muscled pioneers settling the American West, the bloody toll of the Civil War, and events well beyond Lincoln's time, up through WWII.
The images have the heroic feel of WPA posters, as people from all backgrounds and ethnicities join together to embrace the hope and promise embodied in Lincoln's speech. An afterword by Civil War scholar Gabor Boritt is new to this edition, as are brief guides to each painting.
Only a few presidential quotes or speeches have outlasted the test of time, and Lincoln's Gettysburg Address is probably the most famous and most significant.
Originally published in 1947, this pictorial version has been updated with a new afterword by Gabor Boritt, a Civil War scholar, in time for the 150th anniversary of the speech. The original illustrations by Daugherty are brightly hued and hewn and dramatize the 15 sentences of Lincoln's speech with great vigor in a style evocative of Depression-era WPA murals.
In another picture-book depiction, Michael McCurdy's black-and-white engravings (1995) contrast sharply and are forcefully composed, alternating between the action of battle and the quiet artifacts left behind.
Daugherty's heroic tableaux attack the emotions with highly symbolic imagery. "A new nation conceived in liberty" depicts two men, black and white, raising a flag while another white man unshackles a beaten, scarred slave; on the right, a woman, her children and her frontiersman husband look on; above all, a bald eagle flies into the sun.
It is my hope some of you will take a look at this worthy book for children. President Lincoln has long been a role model for people of all ages and of many nationalities as well.