Percy Jackson is back!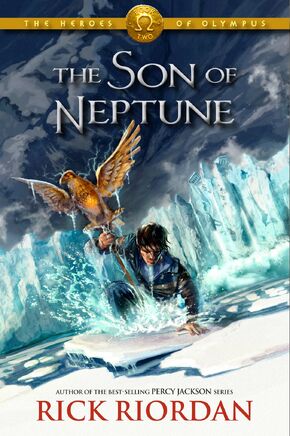 That's the huge news about

Rick Riordan's

newest book, "

The Son of Neptune

"

(Disney/Hyperion, $19.99, ages 8 up), which has a first printing of 3 million copies.
Two years ago, when Mr. Riordan ended the wildly popular five-volume "Percy Jackson & the Olympians" series, fans were crushed. Mr. Riordan, however, promised that Percy would reappear, at some point, in the new series he was writing, "The Heroes of Olympus."
In "The Lost Hero," the first volume of the new series published last year, Percy is scarcely mentioned. But he's one of three major characters in "

The Son of Neptune

," another amazing book from Mr. Riordan.
In it, he combines complex strands of both Greek and Roman mythology (the glossary at the end helps) with action, humor and compelling characters.
But Mr. Riordan's fans likely will be most thrilled by Percy's reappearance. As the book begins, he is suffering from amnesia and being chased around the San Francisco area by gorgons who are trying to kill him. Fortunately, he finds safety in a place called Camp Jupiter.
Like Camp Half-Blood, made famous in the "Percy Jackson & the Olympians" series, Camp Jupiter is a place for demigods, those who have one human parent and one parent who is a god. But there's one big difference about Camp Jupiter: It's filled with Roman demigods -- not Greek ones, as at Camp Half-Blood.
At Camp Jupiter, Percy is befriended by two other teens, Frank Zhang and Hazel Levesque. The three of them are quickly tasked by Mars, the Roman god of war, with what seems an impossible quest: head to Alaska, known as the "land beyond the gods," and free Thantos, the Greek god of Death, from giants. This has to be done in less than a week.
As with "The Lost Hero," this newest book has an ending of sorts, but it's also clearly not the end of the story. Fans will have to wait until next October for the next volume in the "Heroes of Olympus" series. Fortunately, Mr. Riordan will publish the third book in another series, "The Kane Chronicles," which focuses on Egyptian mythology, next spring.