Here is another interesting post originally from Publishers Weekly. Have a look.
The literacy organization First Book approached a momentous milestone – its 100 millionth brand-new book donated to a child from a low-income family. But the big question became which book should it be?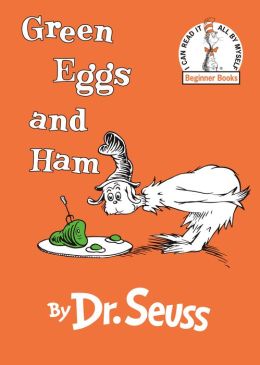 Staffers encouraged the public to vote for one of 10 children's titles to receive the honor. More than 14,000 votes were cast, and the winner was Dr. Seuss's

Green Eggs and Ham, published by Random House.
This classic faced some tough competition. Other contenders for the 100 millionth book designation, gleaned from the list of the most popular titles First Book has distributed to its network of 40,000 local schools and community programs across the U.S. and Canada over its 20 years in operation, were A Wrinkle in Time; Click, Clack, Moo: Cows That Type; Diary of a Wimpy Kid; Eating the Alphabet; Guess How Much I Love You; Martin's Big Words; The Snowy Day; To Kill a Mockingbird; and Where the Wild Things Are.
"We were cheering," says Kyle Zimmer, co-founder and president of First Book, of the polling results. "Of course we would have been delighted to have any of our publishers win. But Random House has been front and center in supporting us for a long time, and of course everyone knows how wonderful Dr. Seuss is, and what an important part of American culture his books are." First published in 1960, Green Eggs and Ham has sold approximately 15 million copies in North America.
First Book staffers announced the winner of the poll on November 15. After the announcement, Zimmer presented four-year-old Chase-Kennedy Williams with the 100 millionth book and read Green Eggs and Ham aloud to the girl and her classmates, all of whom received a copy to take home.
December is a busy time for First Book, which has

launched a social-media initiative

with HMH Children's Books to give away up to 25,000 new copies (donated by the publisher) of The Polar Express to children in need. "During this season, we're trying to reach a lot of children," Zimmer says. "We know that kids have a chunk of free time over the holidays, and we're working with schools and other groups to make sure they have books to read during school vacation. Given the economic times, people are tuned into the fact that more schools and families are struggling, and we really appreciate publishers who offer an influx of donations at this time of year. We all need to lend a hand."