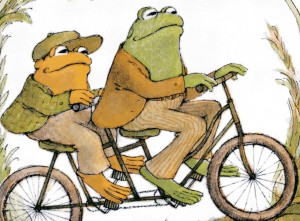 The

Jim Henson Company,

based in L.A., has picked up the film and consumer products rights to 1970s classic children's book series Frog and Toad, written and illustrated by

Arnold Lobel.
An animated film featuring the comic adventures of the amphibian pals is in development, while a licensing program based on the series' original artwork is underway.
The Lobel series consists of four Frog and Toad books and five short stories that have sold more than 13 million copies over the years and continue to sell in excess of one million copies annually for publisher HarperCollins.
Lisa Henson will produce the animated film slated for release in 2014, while Adam and Adrianne Lobel are the producers.
As for consumer products, Henson has secured L&M representation rights from HarperCollins Children's Books and SVP of global consumer products Melissa Segal says
she's not waiting for the movie to start working on a licensing program. She and her team at Henson are taking a two-pronged approach.
At the Licensing Show next week, Segal will be talking to potential partners for a classic Frog and Toad program targeting the infant, kids and adult demos. She believes the property sits comfortably among literary classics like Beatrix Potter and Winnie the Pooh. "The books are still read in schools and also resonate with parents," she says.
To that end Segal will be looking primarily for soft goods (think onesies and layettes for infants, nightwear for kids, and statement-based apparel for adults), accessories, gift and room decor partners to launch a classic Frog and Toad program at US mid-tier and specialty retailers in 2013.