Have you seen this book advertised or discussed in articles and blogs yet? It's the one with the conundrum following it like the tailwind of a Sahara sandstorm.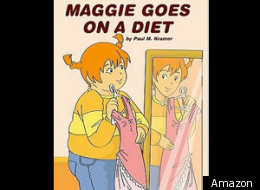 An overweight young girl with braids, stands in front of the mirror holding up a too-small pink dress and sees a new and improved version of herself. The girl looking back at her is thin.
This book that many find disturbing at best and harmful at worst, will be in bookstores on October 16. It was written and self-published by
Paul M. Kramer
.
Amazon recommends the book for children beginning at age six. The beginning grade recommendation is First Grade. The Amazon description reads:
"This book is about a 14 year old girl who goes on a diet and is transformed from being extremely overweight and insecure to a normal sized girl who becomes the school soccer star. Through time, exercise and hard work, Maggie becomes more and more confident and develops a positive self image.
Teaching kids to make healthy lifestyle choices from an early age is a worthy endeavor. And childhood obesity is a serious public health issue nationwide. According to the CDC, approximately 17% of children in the US are overweight. This is over triple the rate a generation ago.
But Maggie isn't dreaming of being a soccer star. This little girl is driven to get into the pink dress. The book is selling skinny first with everything else to follow.
Just as childhood obesity is on the rise, eating disorder rates are climbing alarmingly and are affecting younger and younger kids. Last year, the
American Academy of Pediatrics
reported a 199% increase in the number of eating disorder-related
hospitalizations for children under the age of 12.
Whether the book sells well or is effective in its message, remains to be seen. This blogger, though, will leave her readers with one notion. The emphasis is misguided from the beginning of the book. Children are not the ones to be targeted and certainly not children as young as six! It is, in fact, parents who need to be educated and become proactive about this national epidemic. Only then will there be any hope of eliminating such an emotionally wrenching and potentially life shortening problem.