Andre,
the green sea turtle, sat in the sand Wednesday morning, looking around at hundreds of his human fans but refusing to crawl into the ocean. "C'mon Andre, you can do it!" encouraged Melissa Ranly, hospital coordinator at Juno Beach's Loggerhead Marinelife Center.
(See Andre's release on the You Tube video at bottom of post.)
But the 177-pound turtle has been confined to a circular hospital tank, where he had spent the past 13 months in rehab. He refused to budge.
So Ranly and several co-workers picked him up and placed him in the surf. Finally, he began to swim off to the whistles, applause and cheers of the crowd on the beach. About 15 yards out, he raised his head and seemed to wave goodbye with his front flipper.
Named for pro wrestling great, Andre the Giant, this sea turtle fought his way back from injuries so severe that when Loggerhead staff veterinarian Nancy Mettee first examined him, she contemplated putting him down.
Found washed up on a sandbar by beachgoers in June 2010, Andre suffered from deep cuts in his shell inflicted by boat propeller strikes. His body cavity was exposed; he had a collapsed lung and pneumonia.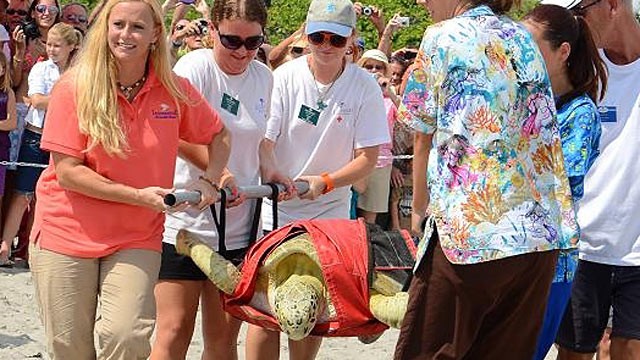 "There were three pounds of sand inside the cavity between the shell and the body," said registered nurse Letizia Shaffer. "I could put my whole forearm into the wound when we were dressing it."
To heal Andre's wounds, Mettee and Shaffer employed technology never before used on a turtle or in an underwater environment. They implanted him with grafting material called Strattice Reconstructive Tissue Matrix that's typically used in human breast reconstruction and hernia repairs.
A vacuum suction device was used to speed the healing process. Since Andre spends most of his time submerged, his caregivers had to figure out a way to keep air and water out. They used bathroom caulking to seal off the shell, and rigged a device to allow him to swim around his tank. Shaffer said Andre was a good patient.
"All the time we were working on him, he'd turn and look at us," she said. "He accepted what we were doing for him."
The final step in the turtle's recovery was to repair the gaping holes in his shell. Mettee had heard that orthodontic techniques might work. Last November, Jupiter orthodontist Alberto Vargas volunteered his expertise using custom-made palate expanders to guide new bone growth. The appliances pulled parts of the shell together and pushed others apart.
At last Andre was ready to return home where he belongs. A VIP reception and going-away party were held at the marine center Tuesday night. Mettee said a private goodbye to her favorite patient after the guests left; she couldn't bear to watch his departure on the beach Wednesday morning.
"It's like watching your kids go off to college," Mettee said Tuesday night. "You want them to be strong and independent. But you can't protect them there. So it's very bittersweet."
In the past year, over 200 supporters have adopted the turtle from 25 states in the U.S., and countries as far away as Germany, France, Belgium and Luxembourg. Andre has resonated with the center's 200,000 annual visitors as a symbol of the continued need for ocean conservation. His story has inspired so many people all over the world who see the need for caring for our planet and all living things that call it home.