Ah, Halloween. Ghosts, goblins and groans. My children loved the holiday! What better way to get into the spirit than with a good scary book. Here are a few recommendations for you!
GHOSTS IN THE HOUSE
By Kazuno Kohara
For ages 1-6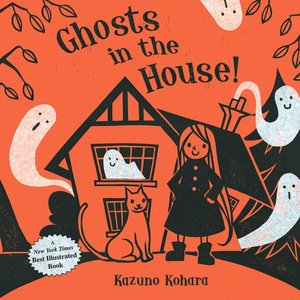 There are fuzzy pumpkin costumes in sizes as small as 6 months, so why not a Halloween board book for toddlers? This one tells the tale of a little girl who moves into a new house only to discover it is haunted. No worries. Turns out she's a witch, and she knows exactly what to do. In a twist on the sheet-as-ghost costume, our little witch gathers the pesky ghosts, puts them in the washing machine, hangs them on the line, and makes bed sheets out of them. Stylishly illustrated in orange and black, this story has just right balance for very young children.
THE MONSTER RETURNS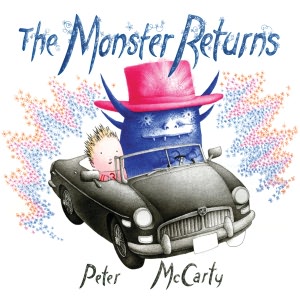 By Peter McCarty
For ages 3-7
When the phone rings and Jeremy's blue monster announces that he is bored and coming back, Jeremy invites his friends over to draw their own monsters. Then, when Jeremy's monster arrives, he is greeted by a roomful of friends. And friends are just what the monster and Jeremy need!
HOCUS POCUS HOTEL
(Volumes 1 and 2)
By Michael Dahl
For ages 8-11
When Tyler Yu (a bully) asks Charlie Hitchcock (a geek) to meet him after school, Charlie fears the worst. But Ty just needs his help solving a mystery at the Abracadabra Hotel, a retirement home for magicians, where his dad is the manager. As the two join forces and discover the hotel is haunted, an unlikely friendship develops. A delightful, spirited new series filled with riddles, magic tricks and secrets.
WITCHES: THE ABSOLUTELY TRUE TALE OF DISASTER IN SALEM
By Rosalyn Schanzer
For ages 10 up
A riveting, real-life horror story of what happened in Massachusetts in 1692 after two young girls began twitching, contorting their bodies into strange shapes and mumbling odd things. As the "virus" spread to other villages, people began to distrust their friends and neighbors, believing they were witches in cahoots with the devil. Mass hysteria reigned, reputations were ruined and lives were lost. A terrifying historical event, vividly brought to life.
GHOSTS I HAVE BEEN
By Richard Peck
For ages 11 and up
The time: 1914. Quirky, fun-loving Blossom Culp would do anything not to feel like a social outcast. So she conjures up a story about being able to see the future (since her mother is a fortune-teller, it's not as far-fetched as it seems). And sure enough, her gullible schoolmates begin to believe it. But when some of Blossom's predictions come true, and she begins to have visions, flash-forwards and a particularly vivid deja-vu about a young boy on the Titanic, Blossom realizes that her new paranormal "normal" has its own set of problems.
MISS PEREGRINE'S HOME FOR PECULIAR CHILDREN
By Ransom Riggs
For ages 13 and up
A creepy, scary, touching book about a young man who seeks to uncover the life his grandfather lived as a boy, only to discover a world of unexpected terror.
As Jacob stumbles into a time loop, part paradise and part nightmare, he finds himself trying to unlock the mysteries of Miss Peregrine's Home and the peculiar children it housed, who may all still be alive—and hell-bent on ridding the world of monsters. Mesmerizing vintage photos give the story an added dimension and make the characters starkly real.