Arnold Lobel
, author and illustrator of the
Frog and Toad series
, was born in 1933 and raised in Schenectady, New York. Having begun his career doing work for advertising agencies, he started illustrating for Harper & Row in 1961, and the following year published his book "A Zoo for Mr. Muster," about a man who becomes a zookeeper so that he can spend every day with his animal friends.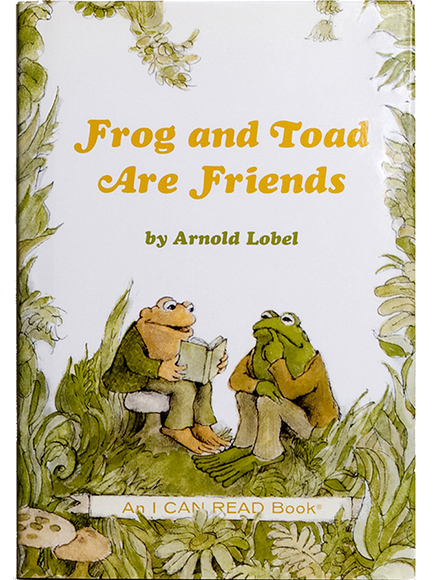 During his career, he worked on dozens of children's books, both as a writer and as an illustrator, and also, in some instances, in collaboration with his wife, Anita Kempler, whom he met while studying art and theatre as an undergraduate, at Pratt Institute.
In his Frog and Toad books, published between 1970 and 1979, the pair visit each other at home and explore their natural surroundings together, occasionally seeing other animals, like a snail who is the mailman, or birds who enjoy cookies that Frog and Toad throw out when they can't stop eating them. Many of these stories still make me laugh, like the one in which Toad wakes up and makes a list of things to do. "Wake up," he writes, then immediately crosses it out. "I have done that," he says.
As a child, Lobel's daughter, Adrianne didn't think there was anything particularly special about her father reading her the stories he'd written.
It was just 'Papa's written another story—he's going to read it to me now.'
She recalled a time when she and her younger brother Adam were fighting in the back of a car on a road trip. "My father had been very quiet for a long time, and I guess he couldn't stand listening to us anymore, and he said, 'Do you want to hear a story?' So we settled down, and he recited from beginning to end in verse a story he had just written in his head."
When Adrienne was asked why she thought the books have such staying power, she said:
"It was the only thing he wrote that involved a relationship. I've watched children grow up, and that whole drama that's kind of the precursor to the hell of romance later in life—who is best friends with whom and who likes who when, and this person doesn't like me now—it's very painful, and I think that children really like to hear that this is not abnormal, that Frog and Toad go through these dramas every day."
Adrianne suspects that there's another dimension to Frog and Toad's sustained popularity. Frog and Toad are "of the same sex, and they love each other. It was quite ahead of its time in that respect." In 1974, four years after the first book in the series was published, Lobel came out to his family as gay. "I think 'Frog and Toad' really was the beginning of him coming out," Adrianne said
.
Lobel never publicly discussed a connection between the series and his sexuality, but he did comment on the ways in which personal material made its way into his stories. In a 1977 interview with the children's-book journal The Lion and the Unicorn, he said:
You know, if an adult has an unhappy love affair, he writes about it. He exorcises it out of himself, perhaps, by writing a novel about it. Well, if I have an unhappy love affair, I have to somehow use all that pain and suffering but turn it into a work for children.
Lobel, who died in 1987, was an early victim of the AIDS crisis. "He was only fifty-four," Adrianne said. "Think of all the stories we missed."