Here comes a sequel to Winnie-the-Pooh! It is being published by Egmont and is an "official sequel" to 2009's
Return to the Hundred Acre Wood
, by David Benedictus, itself the first authorized sequel to Milne's tales.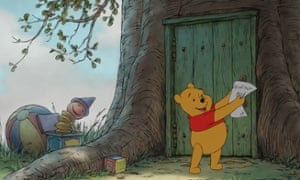 This edition, an anthology, will coincide with the 90

th

anniversary of the first Pooh book in October 1926, the adventures of Christopher Robin and Winnie-the-Pooh would be continued by four "outstanding writers with a real understanding for AA Milne's characters and world". Out next year, the book will be illustrated by Mark Burgess, who also worked on Benedictus's sequel.
It appears that the authors' names will be announced closer to publication. We've a while to wait until then, so let's pass the time by speculating about who the best authors writing today would be to pick up Milne's baton.
'Winnie-the-Pooh' was originally published by Methuen on October 14th, 1926, the verses 'Now We are Six' in 1927, and 'The House at Pooh Corner' in 1928. All these books were illustrated in a beautiful way by E.H. Shepard, which made the books even more magical. The Pooh-books became firm favorites with old and young alike and have been translated into almost every known language.