The vegetables in
Beatrix Potter's
children's have always come alive, appear fresh and ready to be harvested. And did you know Ms. Potter was a gardener of gardeners, passionate about her land and what resided there--animals, vegetables, humans? But what about those cuddly, adorable bunnies?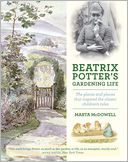 Potter's love of gardening began in childhood, with marvelous nature drawings and the chance to watch professional gardeners during her wealthy family's holidays in the British countryside. While Peter Rabbit's nemesis, Mr. McGregor, was not a real person, McDowell writes that he resembled the gardeners Potter would have encountered.
Potter's active gardening began when, at age 39, she bought a 34-acre working farm with a cottage in England's Lake District. Her gardening style, on full display in the book's period black-and-white photos and modern color images, was romantic and unpretentious.
"She wasn't a formal person, and she abandoned a lot of formality in all parts of her adult life," McDowell says. Potter married local lawyer William Heelis in 1913, when she was 47, despite her parents' objection that Heelis was beneath her. The couple had servants, but Potter also helped cut hay in her fields.
A nature lover who eventually accumulated more than 4,000 acres and willed them to the National Trust conservation group, Potter grew cowslips, dahlias, gooseberries, crab apples, phlox, yellow loosestrife, snowdrops and bellflowers on her increasing land holdings.
"She had a cottage garden, which is a style that nowadays we're all very comfortable with: loose groups of flowers and maybe some fruits and even some lettuce mixed in," McDowell says.